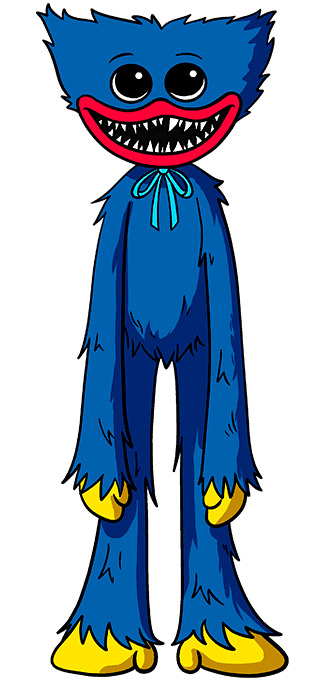 Huggy Wuggy
Huggy Wuggy is a larger-than-life character who inhabits a world where the line between adorable and eerie is blurred. Standing at an astonishing 10 feet tall, this cobalt-blue, fuzzy creature is quite the enigma. At first glance, you might be charmed by his long, lanky arms that seem perfect for hugging, and a smile that stretches from ear to ear — quite literally. His button-like eyes are almost innocent but hold a glint of mischief, hinting that there's more to him than meets the eye.
Yet, when the lights flicker and the ambiance shifts, Huggy Wuggy reveals a more unsettling aspect. His limbs stretch even longer, turning into tendrils that can swiftly reach out to grab anything — or anyone. That ever-present smile can twist into a grin that's a little too wide, revealing razor-sharp teeth that contrast sharply with his soft exterior. What you once thought was charming now casts a shadow of doubt, making you wonder what Huggy Wuggy truly desires.
Huggy Wuggy is a study in contrasts: cuddly yet creepy, simple yet complex, making you question whether to approach him with a hug or keep a wary distance. This complex character captures the imagination, drawing you into his world and leaving you simultaneously enchanted and unnerved. You're never quite sure if you're safe, but one thing is certain — you'll never forget your encounter with Huggy Wuggy.
Height & Color: Stands at an imposing 10 feet and has a striking cobalt-blue hue.
Arms: Long, lanky limbs that are seemingly made for hugging but can stretch to unsettling lengths.
Facial Features: Wide smile and button-like eyes that oscillate between innocent and mischievous expressions.
Duality: A blend of cuddly and creepy, keeping you unsure about his true intentions.
Memorability: An enigmatic and charismatic presence that leaves a lasting impression.
Huggy Wuggy